What is Araponics ?
Araponics is an hydroponic growing system initially designed for Arabidopsis thaliana and now successfully tested with other model species.
We also distribute General Hydroponics Europe growing systems and fertilisers to help researchers to find the right growing system for the right species or applications.
The Araponics System
The Araponics system is composed of 3 original parts that brings the power of hydroponics to the plant science community: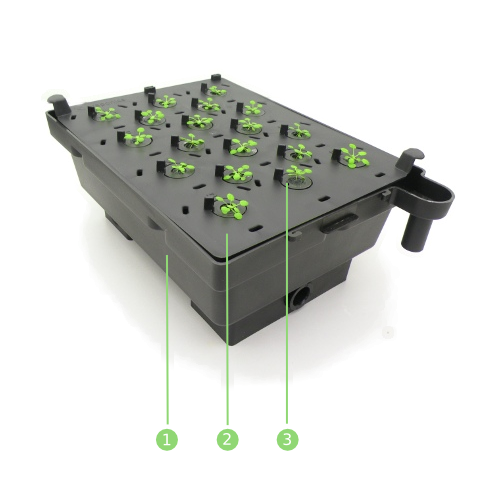 1. Box
The 1.8-L containing box can fit to any growing facilities. The containers can be inter-connected to construct up-scalable networks. See our user guide to know how to create a network.
2. Support
Depending on your application, 2 different supports can be used: a low-density (up to 18 plants) and a high-density (up to 35 plants) support.
3. Seedholder
Seed-holders are small pieces which have to be filled with agar. Seeds are easily sown and germinate safely. See our user guide to know how to fill the seed holder with agar gel.